What is it?
Citroen has been clever about the positioning of its quirky new C5 Aircross within the wider PSA Group SUV range.
At 4.5m in length, it's ever so slightly longer than its Peugeot 3008 and Vauxhall Grandland X brethren, but not so long that it steps on the larger, seven-seat Peugeot 5008's toes. I'd wager that could be a slightly problematic situation. That Citroen says it has no plans to launch a seven-seat SUV of its own suggests it might think so too – if you read between the lines, of course.
But anyway. This isn't the first time we've driven the C5 Aircross, and you may well have already pored over Lawrence Allan's dispatch from Morrocco. However, it is the first time we've been able to try one out on home soil, and is a good opportunity to see if the C5 Aircross' trick Progressive Hydraulic Cushioning suspension (which is available as standard across the C5 Aircross range) deals with British roads any better than it did with the questionable Tarmac in and around Marrakech.
Being based on the PSA Group's ubiquitous EMP2 platform, it comes as little surprise that this particular C5 Aircross is powered by the equally ubiquitous 1.6-litre, four-cylinder PureTech petrol engine. Here, it develops 178bhp at 5500rpm, while its 184lb ft well of torque can be tapped into from as little as 1650rpm. This is all directed straight to the front wheels through an eight-speed automatic transmission – no manual 'box is available with this particular motor.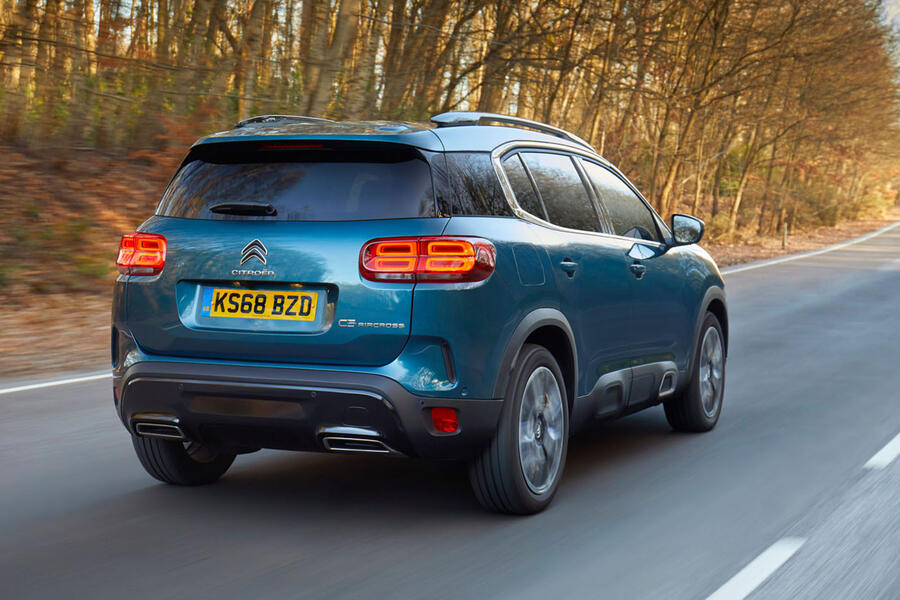 What's it like?
In top spec Flair+ trim, this £30,725 SUV seems to impress as often as it irritates so far as fit and finish are concerned. Sit yourself down in the cabin and I'd wager the first thing you'll notice is just how large and squishy the 'Advanced Comfort' seats are. On first acquaintance they seem almost too soft to be properly supportive, but after an extended period at the wheel these concerns prove to be misguided – they're really rather good.
Anyway, once you're settled in (an easy task, owing to plenty of adjustability in the seat base and steering column), you'll begin to notice a few areas that are perhaps a bit more questionable. The hard plastics used – such as those in the doorcards – look and feel a bit crummy; while some of the buttons on the centre console don't quite have the satisfying sense of tactility about them you'd expect from a larger, top-spec C-SUV.
The infotainment suite software is agreeable, but no more; and while the digital instrument screen is usefully customisable, the layout of a few of the displays are a bit questionable – an inability to display traditional, circular dials being a particular personal gripe. Room in the back is average, too. Even with the three individual rear seats slid all the way back, knee-room is a bit tighter than I'd ideally like – and at 5ft 11in I'm not what you'd call particularly tall. The same goes for headroom, but that's likely more down to the fact this Flair+ test car came with a panoramic sunroof. That said, at 580 litres to the luggage cover, boot space is impressive. A Peugeot 3008 offers 520 litres to the same point, and sliding the Citroen's rear seats to their forward-most position will increase that space to 720-litres. Handy touch, that.
As for the way it drives, well, again it's a shade hit and miss. As far as the engine is concerned, I like it. At a cruise, it's demure and by no means obnoxious; the fact you can't really hear it is testament to the good work Citroen has done to isolate the cabin from external noise. It's punchy enough to ensure the C5 Aircross can get up to speed in respectable time, too.
That said, under throttle it does begin to get breathy and vocal at the top end, but I'd wager this isn't a car you'd feel particularly keen to rev out anyway given its more laid-back, family-friendly image. The eight-speed 'box can also be a touch hesitant when you step on the accelerator, and when moving away from a standstill; but once you're rolling it swaps cogs in a suitably dexterous fashion.
Now, about that ride. When we last drove it, we concluded that it was likely only marginally better than class average at best. Having now put it under the microscope on UK roads, that same conclusion seems to ring true. There's definitely a pleasing level of cushioning provided by that trick suspension, particularly when travelling over more uniform undulations at open road speeds. Compressions are ironed out in a gradual, forgiving manner; although upwards vertical travel does feel a touch looser than in other compact SUVs.
What grated more were its manners over lumpier road surfaces, where its softer set-up made for slightly more head-toss than you might ideally like. The Progressive Hydraulic Cushioning also didn't seem to mask secondary intrusions quite as much as expected, although this could have had more to do with the fact our test car was fitted with 19in alloys.
As for its cornering manners? They're about what you'd expect from a large, soft Citroen – which means there's not a huge amount to get excited about. There's enough front-end grip to avoid any upsets, which is backed up by the fact you can't properly turn the stability systems off anyway. There's a good deal of lateral roll through the bends, but the rate at which it begins to tilt is progressive and at all times in step with your inputs. The steering, meanwhile, is overly-light and not particularly communicative.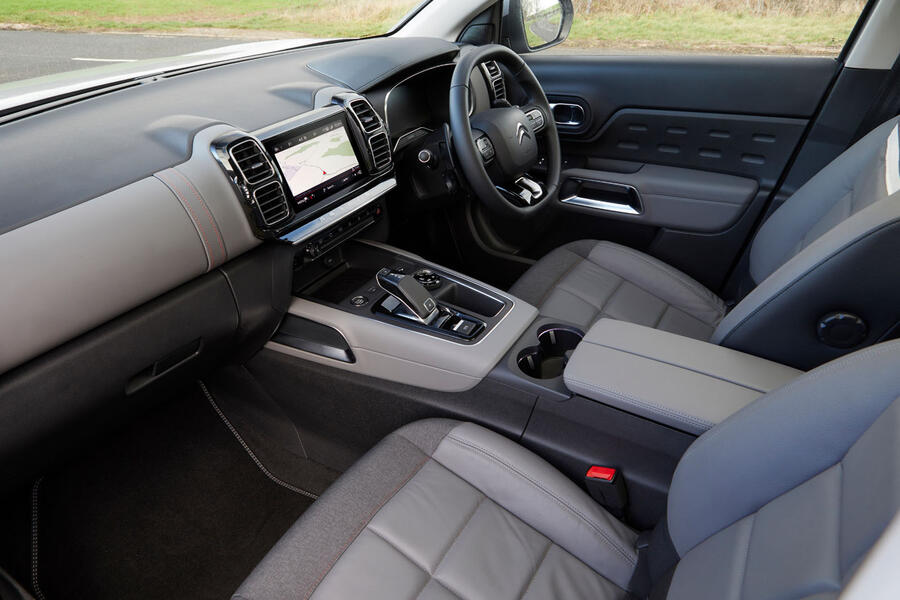 Should I buy one?
So, there's very little in the way of 'Sport' about this particular Sports Utility Vehicle, but there's certainly a good deal of 'Utility' –  which for many will be a draw. It's manners on the motorway are excellent, the seats are comfortable, and the rear bench is more than roomy enough for children.
A test economy figure of 31mpg seemed reasonable enough, but for those after an economical mile-muncher, there are diesel engines available too. And with a full Autocar road test on an oil-burning model inbound, this isn't the last we'll see of the C5 Aircross. Stay tuned.
Citroen C5 Aircross PureTech 180 Flair+
Where Berkshire, UK Price £30,725 On sale Now Engine 4cyl, 1598cc, turbocharged, petrol Power 178bhp at 5500rpm Torque 184lb ft at 1650rpm Gearbox 8-spd automatic Kerb weight1430kg Top speed 134mph 0-62mph 8.2sec Fuel economy 39.6mpg CO2 131g/km RivalsPeugeot 3008, Volkswagen Tiguan, Mazda CX-5